LIBBY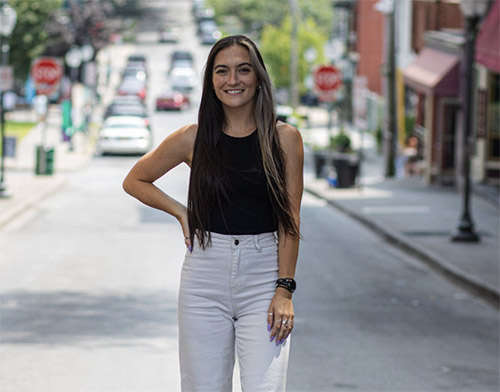 LISTEN TO LIBBY WEEKDAYS WITH THE FLY MORNING RUSH 5:30AM-10AM
Libby is early in her radio career but embracing every moment of working mornings on Fly 92.3 - the station she grew up listening to. You can usually spot her in downtown Saratoga sipping something with tequila in it or walking her dachshund mix, Tuna, with one too many shopping bags in her hands - because you know, self control when it comes to clothing is nonexistent. Her camera roll consists of too many photos of her dog, at-home cocktail recipes (@libbyslibations for a good time) and full outfit mirror pics. As a former DI athlete, Libby has a hard time sitting still. Her inability to "chill out" has led her across the finish line of 3 marathons.
There are a few absolutes when it comes to Libby. One, iced coffee is an all year round kinda thing. Two, family is everything. She is the youngest of four siblings and is currently dedicating all of her energy (and money) to being the fun aunt to 9 nieces and nephews. Three, social gatherings are not meant to be missed.
One word to describe her? Social. Her kindergarten report card said she "loves to share her ideas out loud." And that translates to "this girl never stop talking." Now look at her - talking for a living. Whether its a social function or social media, Libby makes sure she is in attendance. She is always keeping up with, attending and hosting local events. When she's at home, she is scrolling endlessly on the social feeds, managing various accounts and staying on top of the current trends.
Putting energy into something bigger than yourself has always been important to her. That's why she has spent a lot of time working closely with organizations like American Cancer Society, the Leukemia and Lymphoma Society, American Heart Association, and the Red Cross.